Signature Pad
Add a Signature Pad to your forms, allowing users to sign the forms.
Zapier
You can use this add-on to send your form entry data to hundreds of apps on Zapier.
Examples:
Create a MailChimp subscriber
Add a row in Google Spreadsheet
Get Slack notifications
This add-on is super easy to configure. To create a zap, simply copy-paste the webhook URL from Zapier into the add-on settings in FormCraft. Read more.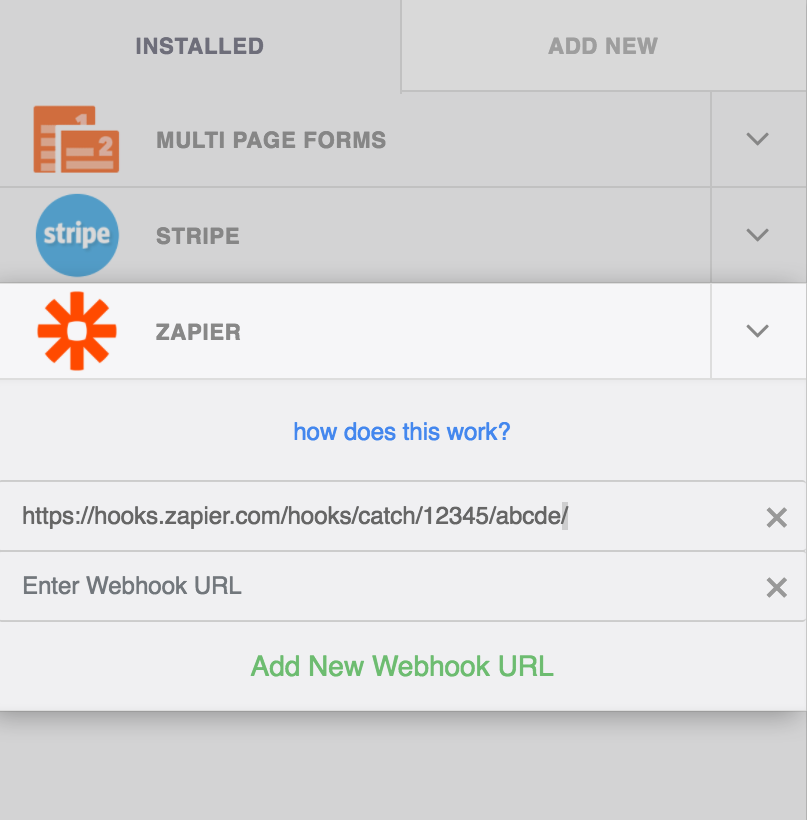 6m Support and Updates
Extend the support period and plugin updates on your license by 6 months. If your support period expires next month, we will add 6 months to it. If it already expired 2 months back, we will extend it by 6 months, from today.
Updates here would refer to plugin updates for the main plugin and add-ons purchased on FormCraft-WP.com.
Tabular Input Field
Allows you to add a spreadsheet-like table field to your form. This is an open-ended field, which means your users can add rows to the table to add more data rows.
User Registration
Create user registration forms
Support for custom user meta fields, for registration
Set a default user role
Create user login forms
Create forms to allow users to update their profile
Bundled form templates for signup and login forms
PayPal Standard
Use FormCraft forms to accept payments from your customers, through PayPal.
Create order forms
Create subscription forms
Pre Populate Fields
Add default data to your forms
Auto-fill your form with user data
Auto-fill your form with variables from the URL
Multi Page Forms
This add-on allows you to make multi-page forms.
Validate each page before allowing user to proceed
Customisable Previous and Next buttons
Highlighted steps to display form progress
Tailor-made interface for mobile devices
Works with popup and slide-in forms as well
Easily move fields across pages when editing forms
Form To Post
Automatically create new posts on form submissions.
Set post author and post status
Support for custom post types
Support for taxonomies
Support for custom fields